Online Course
Attract The Man You Want,
Not The Man You Usually Get,
Without Compromising Who You Are
Stop Looking for Love and Learn How to Let Love Find You
It seems like everyone around you is finding their significant other.
They're getting married, having kids, or traveling the world hand in hand. Meanwhile, you're getting tired of being asked if you've found anybody yet. Or why it didn't work out with that last guy.
At first, it didn't bother you very much. You were building a career or business. You had more important things to do. You didn't want anything serious to get in the way of your success.
You weren't looking for love, but men were still finding you.
Most of the time, you didn't mind the non-committal nature of things. It was easy to turn them down. You have high standards, and they didn't live up to them.
Yet, at other times, it felt like there was a chance for something more. You allowed yourself to get swept away and started thinking of what the future could bring, but what seemed like true love slowly turned into making the difficult decision to stop losing parts of yourself.
As you noticed that everyone around you was living their fairytale, you started wondering if something was wrong with you.
You started wondering if you had made the wrong choices. Maybe your prince charming had come and gone. Perhaps he wasn't out there at all.
So what now? Give up and focus on your career or business? Resign to some cat-lady or single-forever-business-babe stereotype?
No, if you're reading this, it means you've made a different decision.
Deep down, there's a part of you that knows that you have a shot at love. Even deeper still, there's a part of you that knows that you don't have to compromise who you are.
If that rings true for you, then you're in the right place.
My name is Karolina Blaszkiewicz, and I help women to transform their lives and relationships.
Today, I'd like to offer you an opportunity to join a select group of women who are committed to reaffirming their right to be full of passion, happy, and fulfilled in life with a loving, trustworthy man by their side.
What to Expect During The Online Course
Where Have All The Good Men Gone?
Doesn't it seem like all the good men are taken, gay, or unavailable? Why are they so hard to find?
That's the wrong question! Let me explain why.
The mother of a friend of mine had been feeling lonely for years. Being a single mother, she knew what it was like to take control and provide for her kids. She felt that she had to project strength to her sons and the outside world.
She ached for a strong man by her side, with whom she could fully relax into her womanhood. But she never found him. No man was ever strong, fit, or masculine enough.
That doesn't mean he never appeared. Instead, she unconsciously pushed all potential suitors away. She was stuck in masculine energy, yet at the same time, she felt weak and insecure.
It wasn't easy, but eventually, she was able to admit to herself that her insecurities and that she felt out of touch with her feminine side blocked her from being open to love.
Her beliefs about herself prevented her from being open to receiving with fear of being rejected. Her inner doubts left no room for the fulfilment of her desires.
Once she stopped searching for a good man and started transforming her doubts into empowering beliefs, things began to change almost instantly. She started to feel confident again. She felt confident flirting again, and more than all, she felt like a sensual, attractive woman. That was just the start!
This is just one case out of many. There are many reasons that we can't 'find' loyal, loving good men.
But they haven't gone anywhere. They're all around us.
The real question is, do your beliefs and inner doubts stand in the way?
You Don't Have To Search For Love,
Let Love Find You
If you're like many of the women I've worked with, then you're getting tired of feeling disappointed. You're done getting hurt again. You want to stop feeling that something is wrong with you.
So why is it that some women have happy, fulfilling relationships and actually feel confident about who they are. At the same time, other women feel insecure, unappreciated, and get stuck with a partner that doesn't treat them, right? Or that they can't find a partner at all?
After talking to hundreds of women and coaching ambitious career-making women for years, I have realized that only the women who are willing to break the pattern can transform their limiting beliefs into confidence and self-love. Only then can they attract someone that makes them feel real and come alive.
IT'S TIME TO BREAK THE PATTERN
When a woman is connected with herself on a deeper level
and listens to her intuition,
she can get clarity about what she really wants.
Not what her parents want for her. Not the expectations of her friends.
Not what the men in her life dictate to her.
It's time YOU break the pattern!
When you change your relationship with yourself and your past,
and you know what and who you want to attract in your life,
it becomes simple to see things differently and define what you want to create and receive.
Daring to step into your feminine energy and not making any compromise
about who you really are is the first step to breaking the pattern that has made it so hard to find someone that you genuinely feel compatible with.
I've helped hundreds of women to understand and transform their beliefs about relationships and self-worth. The result is nothing less than magical.
How to Let Go of Pressure and Expectations
Unconsciously, you're being sabotaged by experiences from your past. This includes previous relationships, doubts, fearful expectations, and limiting beliefs that hold you back.
It's like the elephant in the room. That feeling of pressure that never really goes away.
I'm going to teach you how to let all of that go. So that when you meet someone, that you feel free and empowered to be yourself.
And that you'll have the clarity and intuition to know if he's right for you.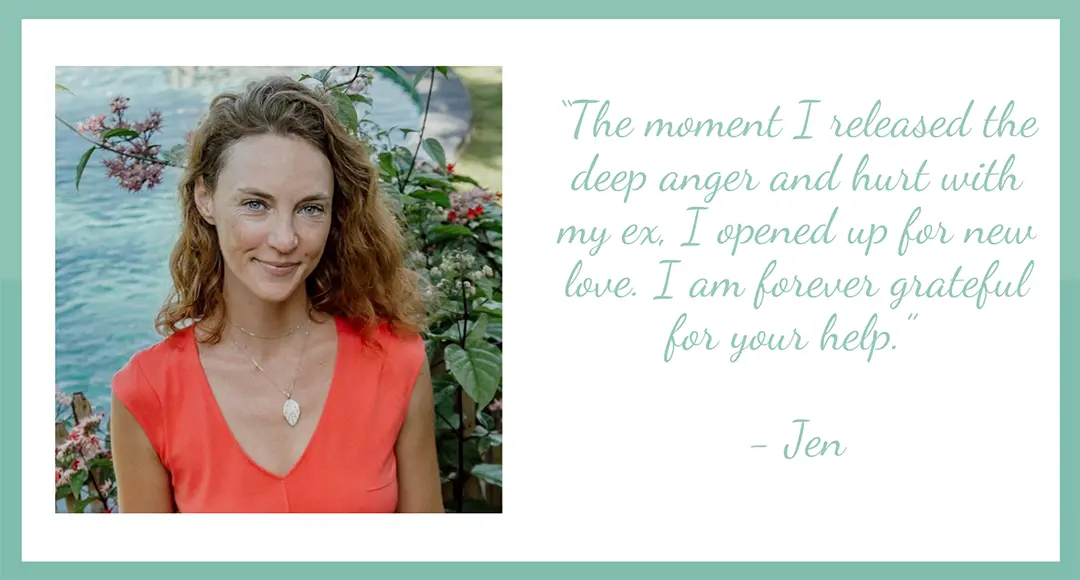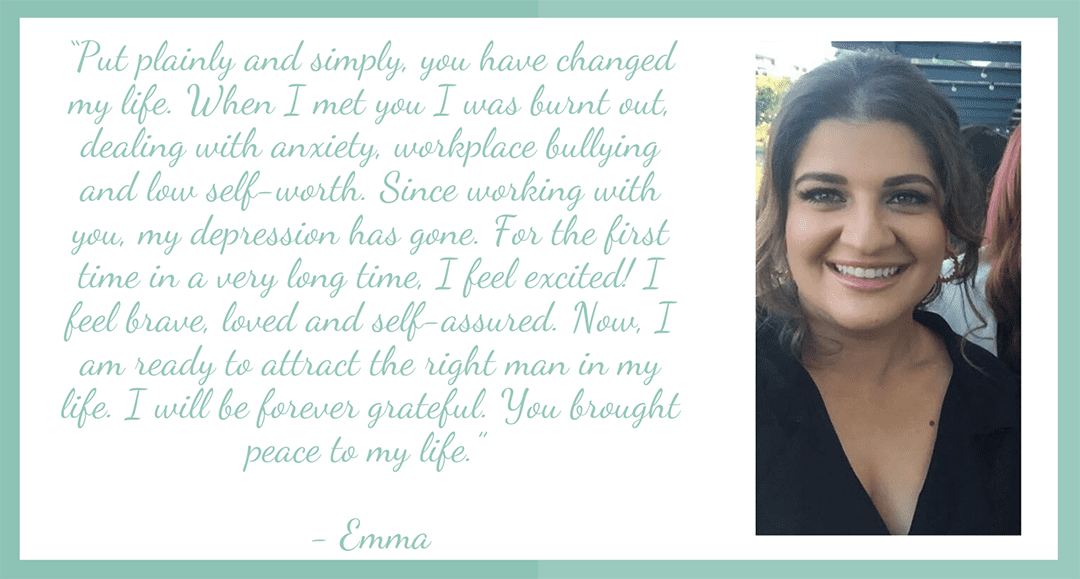 My Story
 Everything changed for me once I made the decision to face my own patterns and beliefs. That was the turning point for me.
There were four times that I thought I had a man I could really rely on. Two of those ended up cheating, and the other two ultimately left me frustrated, emotionally tired, and sometimes unappreciated. In between the good times, I felt like I had to work so hard to be happy in my relationship.
I decided that something had to change. That I couldn't continue that way. I was tired of thinking that I had finally found love only to be disappointed in the end. I was done with being the one that took care of everything while somehow still feeling unappreciated.
So I started reflecting on my past relationships, and I recognized and discovered many beliefs I had on a subconscious l
Healing the Past and Breaking Patterns
Some of these patterns came from my childhood. My father was an alcoholic, and seeing the struggles my mum and our family went through made me want to be in control most of the time. It was about being strong, managing everything, not trusting my man. Not truly knowing how to receive support or love, not only from my partner but from anyone.
Step by step, I realized that MY way of thinking and MY beliefs attracted the men that left me frustrated and unhappy. I knew then that by healing the past and breaking old patterns, that I could become happy and fulfilled in love.
Creating Clarity and Embracing Feminine Power
I started transforming those limiting beliefs into positive and empowering ones. As I was healing and transforming suddenly, I had clarity about what kind of relationship I really wanted, and more importantly, how I wanted to feel in a relationship.
Things started changing very fast. I was crystal clear about what I wanted; to attract this time my future husband and create a beautiful, fulfilling relationship where we are connected on a deeper level. Where I could feel like a woman and relax into my feminine energy.
THE RESULTS HAVE BEEN AMAZING
I manifested everything I wanted very quickly. My inner guidance started working. I know who I am and what I deserve. I attracted my fiance, and we started traveling and working together. We are connected on a soul level, which is what I always wanted.
By shifting limiting beliefs into positive ones, I have changed my reality. I transformed every aspect of my life. Healing old wounds and making peace with my past has allowed my relationship to flourish in ways I had always dreamed of.
That is why I've created this course. I knew that if I could do it, that others could too. So here I am, reaching out to you and women like you all over the world.
Just like the women I've supported in this process and me, you can find and attract the love of your life, and be in a happy, fulfilling, and loving relationship.
I'm not saying it will be easy, but I can promise you that it will be worth it.
Online Course Outcomes
The 8-week online course focused entirely on awakening your feminine energy, healing and transforming your love life. Only the techniques and insights that have actually worked are included in this program. Everything that I've applied in my life and that has created marvellous results for my 1-on-1 clients.
Each module you will be taking steps to help you…
Become the confident and empowered woman you've always dreamed you'd become.
Confidently open your heart to new possibilities in love.
Unlock your beautiful feminine power.
Free yourself from the disappointments of past heartaches.
Clear the emotional baggage and return your heart to a place of love.
Learn how to deeply love and support yourself in any situation that life puts in your way.
Learn to fully express your emotions and harness them to become your greatest superpower.
Never again settle for less than you deserve.
Learn how to say "yes" to love and abundance of all kinds.
Learn how to attract the one you truly desire with your pure feminine energy.
" Working with Karolina has been one of the best decisions I have made in my whole life.I wish I had met her much earlier, however on the other side I know that everything happens always in the right time.
When I started with the mentoring Program I was very happy that I can continue to work on myself with Karolina. I had no idea what to expect and how it would go, especially being in the group, together with other women. To my surprise it was fantastic, great and simply wonderful.
I could see that I am not the only woman in the world with such problems.
During the program I began to change very quickly in an extremely positive way. I Learned many things about myself, my personality, my past and especially my deep beliefs about myself. Karolina was able to show me exactly where I am stuck mentally, emotionally so that I could get to work and transform them.
For example I learned that I stuck with the belief and feeling "I am not worthy enough". So, no wonder that I have been attracting men who I need to "fix" and who are not really "dream men".
I also learned that I am extremely in a masculine and this way I block the flow of money, my intuition and not allow the right man to appear. Now I practice to connect with my feminine energy and start truly balancing masculine and feminine. After the program I am clear on what I truly want in life and what I deserve and how to get what I want.
Karolina has a big Gift to help other people. She has a great ability to recognize what others need and to help them. She is an absolutely great, highly competent teacher and mentor and healer (which I rarely say) with a high level of expertise.
I would recommend Karolina's program and 1-1 sessions to anyone who wants to feel happy, fulfilled and taking life to the next level by attracting and creating a dream life.
This is for someone who is ready to dive deep, willing to heal and face the fears. This is for someone who suffers from anxiety, depression, feeling stuck in life and relationship. Get ready for transformation.
– Moni, 8 Weeks Program Participant
Unlock your Feminine Power and Let go everything that could hold you back
Module 1: Connecting with your Inner Guidance
Module 2: Discovering and Transforming Your Limiting Beliefs into Positive ones
Module 3: Transforming Fears and Breaking old patterns
Module 4: Release Past Disappointments and Experience Powerful Healing.
Module 5: Opening for new life and possibilities
Module 6: Reclaim Your Power and Create a Soulful Relationship
Module 7: Manifest with Feminine Energy
Module 8: Raise Your Vibration and Feel like a Magnet
By Enrolling You Will Receive
A total of 8 hrs of recorded calls. These recorded calls, include powerful energy healing that will break down your emotional blockages and limiting beliefs, replacing them with positive and empowering ones.
All sessions are recorded and are added to your personal library within the Members Area, so you'll have 24/7 access to them.
You will have access to all 8 modules. Each module will be released to you, one by one after you complete the previous one.
In each module, you'll get homework assignments that reinforce what you've learned and allow you to continue to develop yourself into the magnificent and beautiful manifestation of pure feminine energy that you are…
This is for
Single women wanting to attract the man they actually want, not the man they usually get
Women who want to grow and improve their relationship
Open-minded women who want to tap into their feminine energy and experience more flow in their lives
Women who want to feel confident, feminine, and attractive, both intellectually and sexually.
Women who are looking to trust and love themselves enough to become open to falling in love again.
Willing to have some "skin in the game" and understand that they need to invest in themselves to grow, heal, transform, and thrive again.
Investment
My goal with this online course is to help more women more quickly. I don't want to make the price an obstacle. I've spent thousands of dollars and hours studying, traveling, and learning from inspiring teachers, reading, doing courses, and working with women from all over the world.
The techniques and insights I'll be sharing with you during this course are virtually priceless. In truth, you can't put a price on happiness.
And what I have found is that those who can make decisions and act quickly are the most likely to get results and most likely to become my best clients.
So for a limited time, the investment for this online course is a one-time payment of $599.
Are you ready ???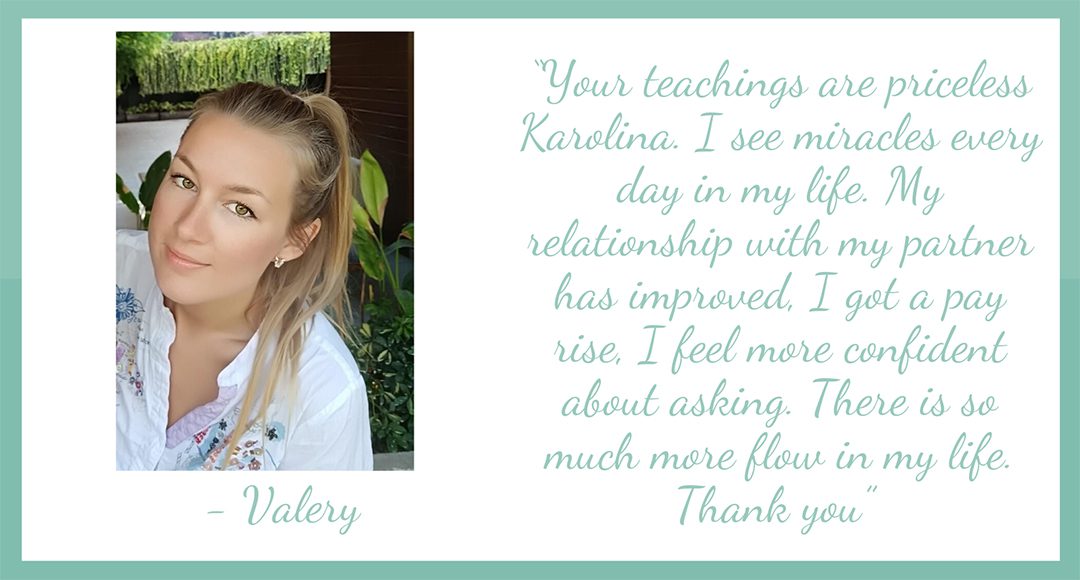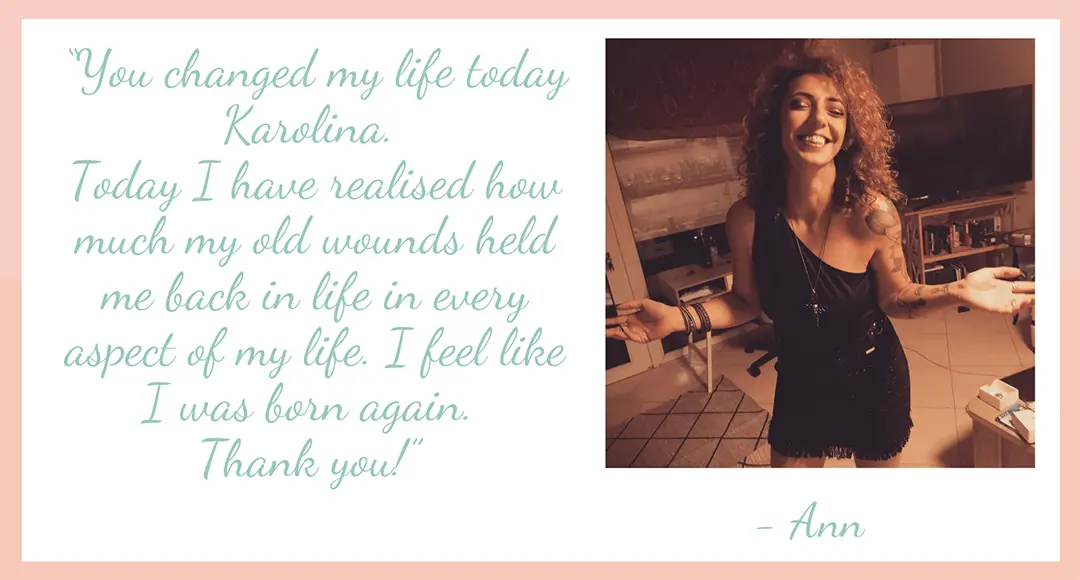 My personal guarantee to you
I know making a decision like this isn't easy. You have a ton of things already going on, do you really want to spend time and money on this? Is it going to work? I've found myself in similar situations and asked myself these questions too. And no, it hasn't always paid off, but you know what, in the end, I'm grateful for each time that I decided to take the leap and did something that helped me become a happier woman.
So here's my personal guarantee to you: I promise you that I will give my best during this course and that it will be worth the time and money you invest. You must take it seriously and do the work. I can't promise you will find the love of your life during or after this online course. Or that your relationship will be saved during the duration or after the course. No course in the world could make a promise like that.
But I can promise that you will learn how to transform yourself and your relationship and that you will gain clarity about what's best for you. I will help you step into your greatness, awaken your goddess and manifest with feminine power so that you attract and create the loving, fulfilling relationship that you deserve, without compromising who you are.
About Me
I've been exactly where you are now, and I've had my share of soul-crushing setbacks. You will be held in a place of deep love and compassion as we take this journey together.
I have been practicing the powerful inner work of transformation for many years. I won't allow you to let your old stories and patterns stop you from becoming the person you are truly meant to be.
I'm on a mission to help women like you reclaim their feminine power and consciousness. I want to help you be free to grow and fall in love with yourself all over again.
I am more than just a mentor, I am a healer with the intuition and capacity to tune in to your inner fears and conflicts. I will help you shine your beautiful healing light on them so they will never again hold you back and shape your destiny.
I not only listen, but I truly hear you and give you the space and support you need to undergo this life-changing transformation into the fantastic, empowered, and loving person that you are.
Frequently asked question
Here are a few answers to our most common questions
Do I get to KEEP THE CONTENT and COURSE MATERIALS for a LIFETIME?
Yes, absolutely. You get lifetime access to all content and materials.
How do I know when I am READY FOR SOMETHING LIKE THIS?
It starts with trusting yourself and your intuition. Step up and claim it – and don't do it with fear or anxiety. For once, do it with clarity and joy. Trust yourself!
One is never ready for the things that can truly transform our lives, but you don't have to be. All you need to know is that you want something better than you have now.
What can I expect from the course?
I want you to know that many of our clients attracted more abundance into their life.
I promise you that I will give my best during this course and that you will learn how to transform yourself and your relationship with money, and that you will gain clarity about what's best for you. I will guide you, and if you are motivated and do the work, even the sky is not the limit.
What if I would like PRIVATE 1:1 support with Karolina?
You can reach out to me directly at love(at)karolinab.com. I highly recommend having 1-on-1 mentoring (subject to availability) in addition to the online program, as we can go much deeper with individual sessions. 
Please note that I only take a handful of private clients each year.
How much LIVE SUPPORT is given on this program?
Tremendous amounts, if you show up and use it. You'll find support on the Course group from your fellow sisters, and myself. 
Are there any REFUNDS?
If after 24h from the payment, you feel that this course isn't for you and no longer wish to continue, then I will give you your money back.
Ready to change your love life?
YOU KNOW YOU ARE!